About ProHeart 6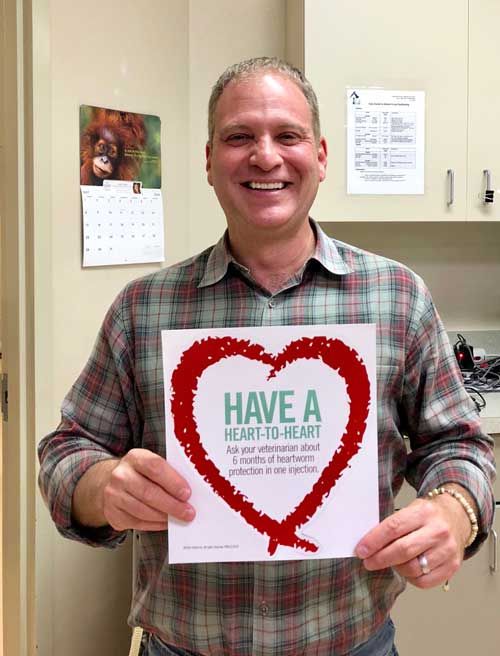 We are excited to start carrying a new form of injectable heartworm prevention. A single injection of ProHeart 6 allows you to rest assured that your dog will have protection against heartworm disease for 6 full months.
Heartworm disease is a potentially fatal but preventable illness transmitted by mosquito bites. Heartworm disease has been diagnosed in all 50 states. Transmission is possible wherever there are infected mosquitoes; all it takes is one bite from an infected mosquito to transmit heartworm to your dog.
Oral heartworm preventatives last only one month. Missed or delayed doses of monthly heartworm preventatives put dogs at risk of developing heartworm disease. We recognize even the most well-intentioned and conscientious of owners find it difficult to remember to administer medication. Nevertheless, continuous preventative care is crucial to your dog's health and is the easiest way to ensure that your pet is protected from developing heartworm disease. That's why we are pleased to offer you an easier way to keep your dog continuously protected.
Benefits of injectable heartworm ProHeart 6 are as follows:
Quickly and easily administered by your veterinarian, here in our office

A single injection protects your dog for 6 full months

No more monthly medications to remember

Proven safe in dogs of varying sizes and breeds

Also offers protection from hookworms (an intestinal parasite)
We believe ProHeart 6 will give you peace of mind, knowing your dog is continuously protected from heartworm disease. We are offering a 10% discount on all ProHeart 6 injections scheduled during the month of July. Call us for an appointment with a veterinarian to evaluate your dog's health, and determine if your dog is a good candidate for ProHeart6.